Last week, I talked about the problems below that you are going to face if you followed my tutorial on how to get a lot of followers on Twitter.
So let's do a recap so you don't have to read that piece of article back for a high level understanding.
First, you need to get a list of followers to follow and my suggestion is to get it from big players.
So, let's say you are running a blog about Justin Bieber and what you can do here is to get a list of his followers. How I do it with TweetAdder is to click on the "Followers of a User", put in Justin Bieber Twitter username and hit the search button.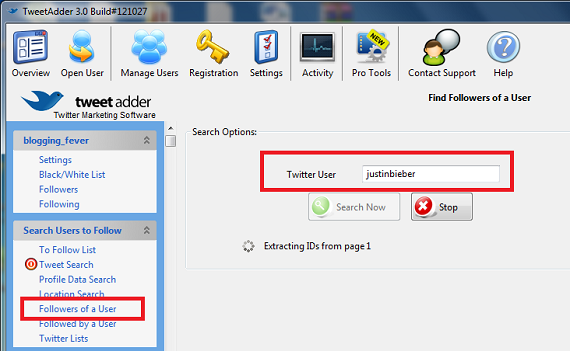 Remember that these are targeted followers because they followed Justin Bieber and if you are Tweeting anything about Justin Bieber, they will be interested as well.
Following has never been easier and safer
So you have a list now and if you want to do a manual following, you might probably need 1 second to click the follow button and wait 29 seconds before following the next user so that Twitter won't flag you as mass following.
As a result, you will need 30 seconds to follow a user in average and if you followed 300 users a day just like my guide, you will need 9,000 seconds. To break this number down:
9,000 seconds = 150 minutes = 2.5 hours
I could write two blog posts with that time!
So, that is why TweetAdder is such a great helper here. Everyday, I followed 300 users by just clicking on the button "Automation On" instead of spending 2.5 hours in front of the screen clicking the "Follow" button.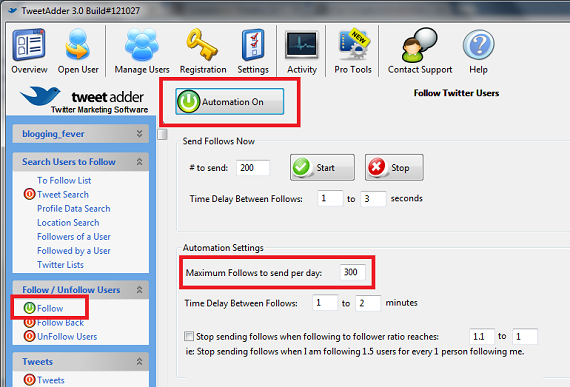 Unfollowing using TweetAdder
So, once you followed a group of users, you will need to unfollow back the remaining 60%-70% who aren't following you back so that you won't have a large number of following versus a small number of followers.
I couldn't explain further the pain of doing it manually but if you do it with TweetAdder, here is what you need to do:
Set your rule of unfollowing – I will prefer to only unfollow those that do not follow me back.
Start the automation by clicking the "Automation Off/On" button.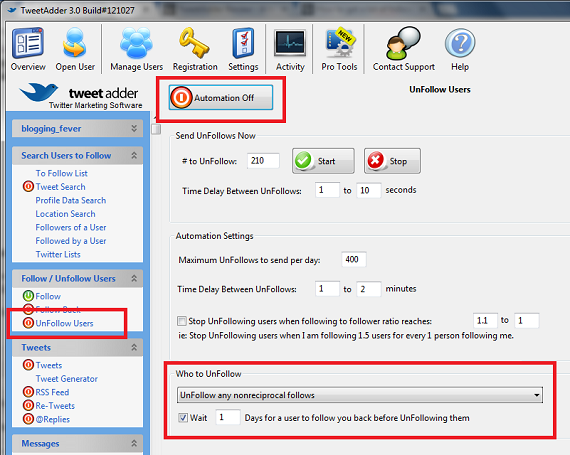 On your main screen, you will be able to see the number of users that you are going to unfollow eventually.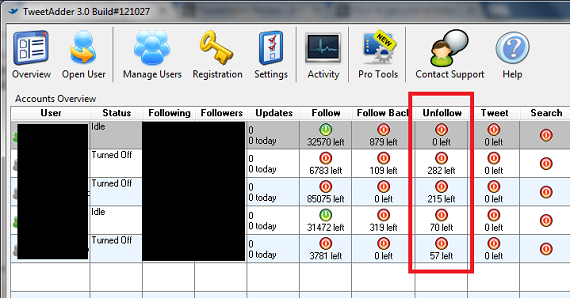 Your last question could be how to ensure you do not follow back the same user twice?
Not to worry too much if you are using this tool. Let say you had already followed a Twitter user called "David7799" before and you accidentally added him into your list again, this software will tells you that "David7799" is already existed in your list before and will not be added again.
By not following David7799 for the second time, your account is safe from him reporting to Twitter that you are a spammer.
What about the cons of TweetAdder?
Nothing is perfect and that goes the same to TweetAdder.
One problem which I faced using this software is it is difficult for me to migrate my list and details into another computer. This is because whatever I had saved such as my list of potential followers, blacklisted, whitelist, and configurations are all in my PC and not the internet.
This means that if I want to use TweetAdder, I will need to copy over these  configuration files which I am still not sure whether it is possible or not because I haven't really done it yet.
Because of finding it troublesome, I leave it as it is on my current computer.
So, if you are going to ask me what are the improvements that I am seeking for TweetAdder version 4,5,6, or whatever, I would say please save my settings to the cloud.
My verdict on TweetAdder
I personally think TweetAdder is cool here and I will give a full 5 stars of rating. It saves me 2.5 hours everyday and I could use that time to rest or write some blog posts.
On top of that, I don't see any problem using this tool where it still has a lot of features which I haven't really explore into.
If you are looking to increase your Twitter followers by a lot, I would recommend TweetAdder not because I want to earn the affiliate commission, but it is because I use it and I recommend it.
If you want to get a lot of Twitter followers without a single pain, TweetAdder is the way to go.