Let's get things straight here.
If you want to start a blog, you need to know how to blog (as in how to write).
Commonly, people will tell you that:
You need an excellent English.
You need to write at least 2,000 words.
You need to publish daily.
That's crazy!
You don't need all these stuff.
Ask yourself back that when you read an article, what do you want the most out of it?
Being useful and that's all. Your article needs to be able to help and everything else are secondary.
Here's the deal
Put your email address below and sign up for my newsletter.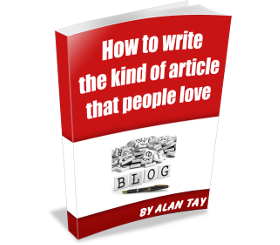 I will send a FREE eBook to you that features:
How to plan the content for your blog for up to 6 months.
How to write the kind of articles that people love.
How to avoid writing the kind of articles that people hate.
And at anytime where you feel I am not delivering the kind of information that you expect, unsubscribe anytime from the bottom of my email.
I promise that I will not disturb you anymore.
I want this FREE eBook NOW!
BONUS!!!
Once you had signed up, you will also receive a 4 Days Email Course on how to generate traffic to your new blog.
Here are the highlights of that email course:
Generate traffic without paying for anything like Adwords, Facebook Advertisement and etc.
No SEO knowledge required.
No complicated technical setup on your blog.
Guaranteed traffic as those strategies work for me.
So, what are you waiting there? Subscribe now and start the successful journey of your blogging career.
I want this FREE eBook NOW!
About the Author: Alan Tay is the owner and founder of Blogging Fever.